Historically, the theater industry has been wasteful, and we need to do better. Many resources are used and often wasted to produce a theatrical play or dance concert. Productions rely on wooden sets, costumes, scripts, furniture, lights, lighting gels, cables, paper programs batteries, and sound equipment, to name a few. As audience members, we sit quietly as the lights dim, we open our imaginations to the ideas presented on the stage, and hopefully we are transformed during the theatrical experience. However, how often do we think about the energy being used during the performance? What happens to the elaborate wooden set after the production closes? Unfortunately, often materials end up in the dumpster, and it's on to the next show.
The Department of Theatre and Dance is focused on a sustainable future. In 2023, we were awarded a matching Improvement Grant from the Office of the Vice President of Research to upgrade the lighting system in our theatre spaces. This will allow us to invest in energy efficient LED lights. In addition, our costume and scene shops continue to find creative ways to be resourceful and protect the environment.
UK's Visiting Lecturer of Lighting and Sound, Jeremiah Kearns, said, "The recent investments in LED equipment will transform our lighting inventory into an environmentally friendly, low power, and high efficiency creative tool. Wireless control technologies greatly reduce the amount of cable needed to connect the network of lights, shrinking our environmental footprint event further. These advancements maximize the student learning while minimizing the detrimental impact often associated with large, power-hungry lighting rigs."
"In the Costume Studio we use natural fibers as much as possible in constructing new costumes. Natural fibers like cotton, wool, and silk are more durable than synthetics, which allows us to reuse costumes for long periods of time. We have several wool pieces from the late 1970s that are still in rotation! We repair costumes for as long as possible. Buttons and trims are removed, the actual fabric is cleaned, and everything is stored for future use in another costume down the road. When fabric pieces become too small to be used for costumes, they're donated to local schools' Art departments or to charities that make rugs or quilts," said Costume Director, Tracy Barber.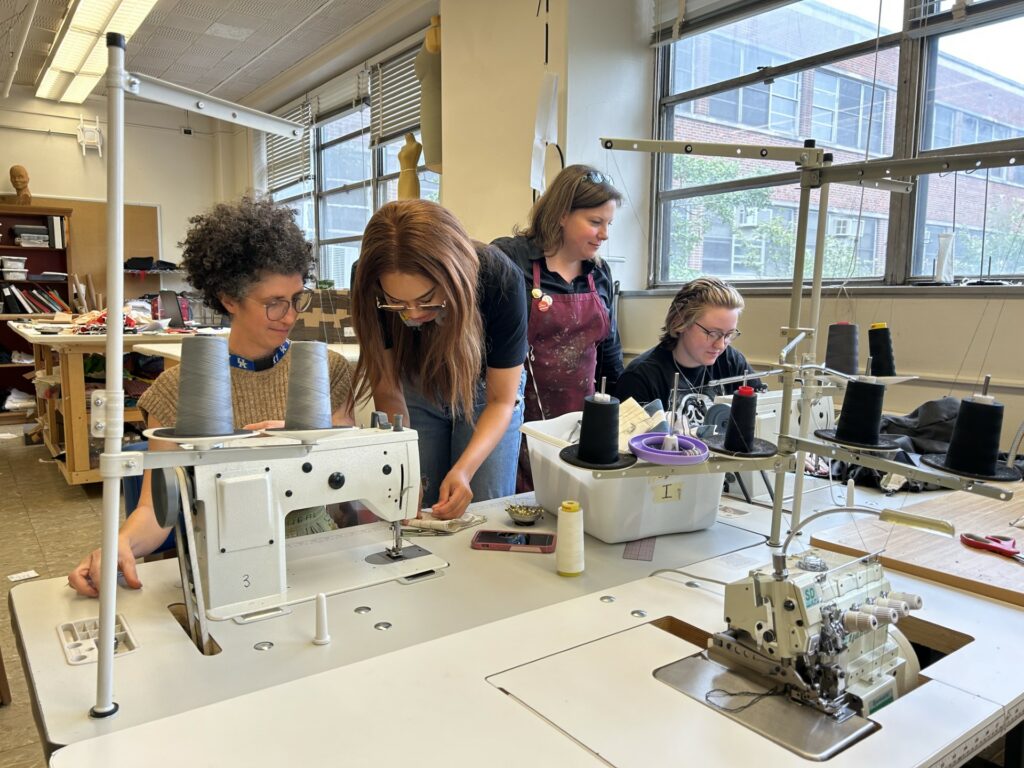 The department's Production Manager and Technical Director, Zack Stribling, shared the green efforts of his team, "We are working hard to produce our art sustainably and responsibly, but we are always looking for new ways to partner and improve our overall footprint. 85% of our structural scenery and furniture in each production is reused from our stock, 50% of the lumber we use is harvested for reuse, and 100% of our structural steel is processed for reuse or recycling. We actively partner with the university's surplus and recycling programs to identify assets and materials we can responsibly rehouse in our facilities and productions. In a system like UK there are so many opportunities around every corner to explore new ways to create responsibly."
The Department of Theatre and Dance has more work to do, but it is moving toward a more sustainable future.
Peter Allen Stone
Acting Chair
Head of Acting
Department of Theatre and Dance