During Waste Reduction Week, UK Recycling interns organized a documentary screening on fast fashion – True Cost. It's free on YouTube, so go watch it! Sometimes documentaries can seem overwhelming and leave us feeling hopeless.
We decided to provide a little hope for you and ask a panel of experts some questions to help us navigate this large and problematic challenge.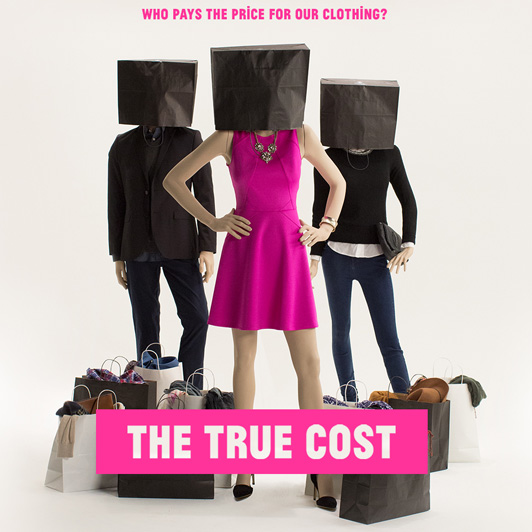 Dr. Lauren Cagle is an Assistant Professor of Writing, Rhetoric, and Digital Studies and Affiliate Faculty in the Environmental Studies major. Her research focuses on climate change communication, technical communication, disability studies, feminist theory, and ethics. Her work has been published in Technical Communication Quarterly, the Journal of Technical Writing and Communication, Rhetoric Review, and Computers & Composition.
Here is what she had to say:
How can we get others to understand this crisis and to help stop it?
"One of the biggest challenges to environmental behavior change is that awareness and understanding simply aren't enough. Someone can know that fast fashion is a crisis, and still shop for unsustainable clothes because they have a tight budget, or live somewhere without a lot of stores, or internet delivery, or simply because their clothing choices are extremely personal to them, so their style can't easily be adapted to new companies or lines.
It's easy to think that people who know better should just do better, but that's not the case. And it's easy to blame people for not making the right choices, as we see them. But the reality is that – for the most part – we can't shame people into changing their behaviors. What we can do is make it easier for them to change their behaviors. We can give them more options or eliminate the negative options by imposing an import tax on fast fashion companies that makes them less suitable for people with limited budgets. We can also help workers in other countries establish unionized bargaining to improve their working conditions.
In a few rare cases, you might be able to persuade or shame someone you know into changing their behavior. That probably only works if you already have a close and trusting relationship with that person, so be thoughtful about how you try to get others on board with your passion for stopping this crisis."
Do you think capitalism as a whole is the root of the problem behind the environmental degradation and low quality of living of overseas factory workers? And do you think major systemic change is needed to improve these conditions and our treatment of the environment?
"Without question – absolutely. Capitalism is incompatible with environmental care and high quality of living, as growth at all costs will eventually cost us the planet. It has already cost us so many human lives. Simply fiddling with the inputs and outputs of capitalism doesn't change the logic of the system itself, which values growth of capital over all else – even the finite resources needed to create that capital in the first place."
Do you think real change could start from within the US itself? With lower-socioeconomic people being more reliant on cheaper clothes, do you think that if their income increased and they bought higher-quality clothing, it could potentially lower the demand for fast fashion?
"Absolutely, improved working conditions and pay for people anywhere can help improve conditions and pay for people everywhere. For example, the University of Kentucky labor union is a chapter of the United Campus Workers (UCW) union. UCW is the higher education branch of the national union CWA (Communication Workers of America), which was started by telephone company workers in the early 20th century. In the 1980s, they expanded to include chapters for public and healthcare workers, starting with a local in New Jersey. Having the CWA's support means that our local union has grown quickly because they provide financial support for us to pay union organizers and recruit workers. So, because telecommunications workers fought for better working conditions for themselves, they're in a position to help workers in other industries fight as well."