Just a few weeks ago, from April 12-16th, UK Recycling put on their first annual Waste Reduction Week. This week of events, created by UK Sustainability Interns Bethany Schagene (class of '21) and Olivia Tussey (class of '22), featured documentary screenings, a faculty presentation, zero-waste kit giveaways, a free student thrift store, and more– all focused on educating students on the importance of waste issues, and how to reduce the amount of waste they generate.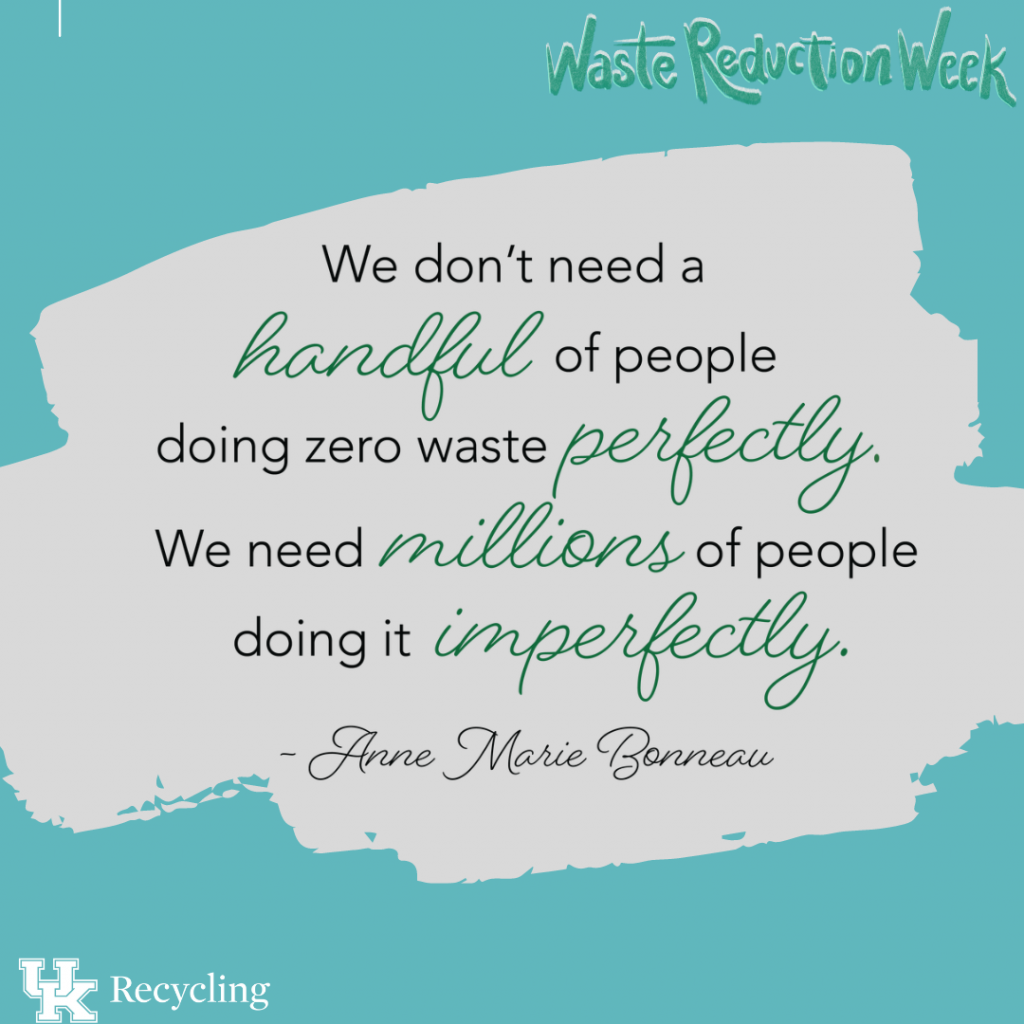 Virtual and in-person event options were available for students, in order to make the week as accessible as possible during the pandemic.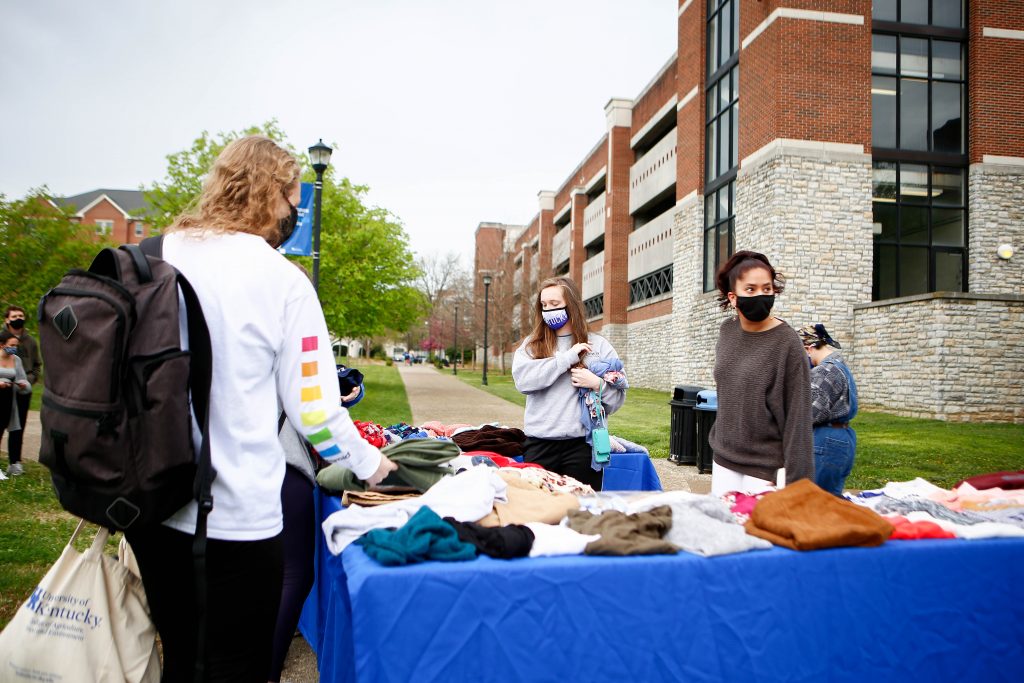 The thrift store was by far the most popular event: having collected clothing donations from students and local small thrifting businesses, hundreds of items were free for any and all UK students outside of Willy T Library on April 13th.
Screenings of documentaries The True Cost and Just Eat It taught students about the issues of waste in the fast fashion and food industries, respectively, while a presentation from Dr. Betsy Beymer-Farris and Dr. Jeffery Seay presented their research on turning plastic waste into fuel in Africa.
If you missed Waste Reduction Week, don't fear– there is always more work to be done to tackle waste issues in your personal life and within your community! Here are some actions you can take to reduce waste, and resources to check out if you're interested in learning more about waste and how it relates to sustainability:
Invest in Zero Waste Swaps for you every day items! Check out this WholeSum article (also written by me!) about my experience switching out my single-use hygiene/kitchen/cleaning products for zero-waste options. While making these swaps is a bit of an investment on the front end, you will save money in the long-run and reduce the amount of waste you create!
Buy secondhand and thrifted clothing! Secondhand clothing and thrifting have boomed in popularity recently, so you're in luck: along with the more traditional options of Goodwill and Salvation Army, there are several local businesses in Lexington that sell thrifted clothing (such as Street Scene, Pop's Resale and Vintage Therapy), and many students who run small businesses on Instagram and Depop centered around thrifting and upcycling!
Compost your food scraps! If you live in the University Flats, food scrap collection bins– called "Grubbies"— are available to you for use in your dorm room! This partnership, between UK Recycling and Student Government Association, will hopefully expand in the coming years. In the meantime, there are ways to create your own composting/food scrap collection bin as a student in a dorm or apartment.
Fix broken items, rather than replacing them! Many items nowadays are created to be too difficult to fix when they break, so that we are stuck always buying new items. This adds to the amount of resources we consume and our overall ecological footprint. If you have an item that is broken, but could easily be fixed by yourself or a professional, do your best to turn to that method, rather than buying new! Be sure to check out our Reuse Resource Map to find fix-it locations near you!
Try your hand at upcycling! Going along with the DIY theme from above, I recommend looking into upcycling to find new uses for items you no longer need or use often. Upcycling can range from turning an old piece of clothing into something new, to repurposing jars and cans to hold makeup brushes or pens.
Conduct a personal waste audit! Oftentimes, the best way to find out which waste reduction tip will work best for you is to conduct an audit of your waste! This gives you a better idea of the kinds of waste you generate in a week/month, which will allow you to come up with a plan on how to cut back. UK Recycling has created a guide on how to do this, with guiding questions and ideas for next steps!
Check out the following resource to learn more! These are some of my favorite resources, but there is an endless amount of sustainability tips and education out there!