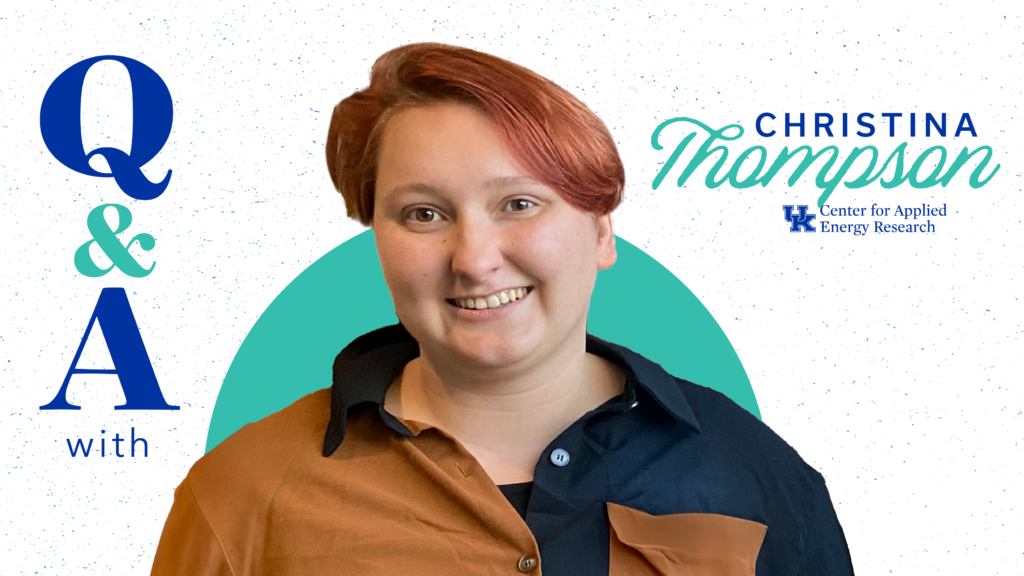 Christina Thompson, a PhD student studying chemistry, was just recently awarded 1st Place award for her poster in UK's Sustainability Showcase. As a part of pursuing her PhD, Christina works at the University of Kentucky Center for Applied Energy Research in the Carbon Materials Laboratory. Here's a little more about her:
What year are you in school and what are you studying?
I am in my 3rd year pursuing a PhD in chemistry at the University of Kentucky.
What is your role at CAER? What kind of work are you involved in?
I am working on research in the carbon materials group at CAER, specifically on a coal to carbon products project. We are studying ways to utilize coal and especially waste coal for the production of carbon fiber and graphite. Waste coal is not suitable for commercial coal use and is therefore collected in impoundment ponds and stored indefinitely. We see a different future for waste coal.
Can you explain more about the coal carbon fiber that you work on?
First, the waste coal must be broken down to a usable liquid form that we refer to as a coal extract. This waste coal extract is then thermally converted to a carbon fiber precursor called mesophase pitch, about half of which is derived from the waste coal. We were then successful in using the mesophase pitch to produce high performance carbon fiber. Carbon fiber is a unique material because it has high stiffness and high strength while being relatively lightweight, making it desirable in the automotive, aerospace, and energy industries.
What was your poster about? What was it like winning the competition?
In my poster, I wanted to give an overview of how we are utilizing waste coal in this process and highlight these recent achievements. The competition was open to all students to submit a poster relating to sustainability research in either the undergraduate or graduate category. Then the posters were judged according to content, motivation for research and relevance to sustainability, presentation, etc. It was really exciting to share these advancements with our community and to see people get interested in our work.
What would you like to pursue in the future?
Short term, I plan on working to utilize waste coal for synthetic graphite production, which could be used in lithium-ion batteries that power electric vehicles. After graduation I want to continue working at the interface of chemical and materials research within the energy sector.