Members of the Tracy Farmer Institute for Sustainability and the Environment's Built Environment Faculty Working Group and UK HealthCare Sustainability Steering Committee's Healthcare Greenspaces Taskforce have worked together for the past year to develop a vision for the landscapes of the UK Medical Center campus.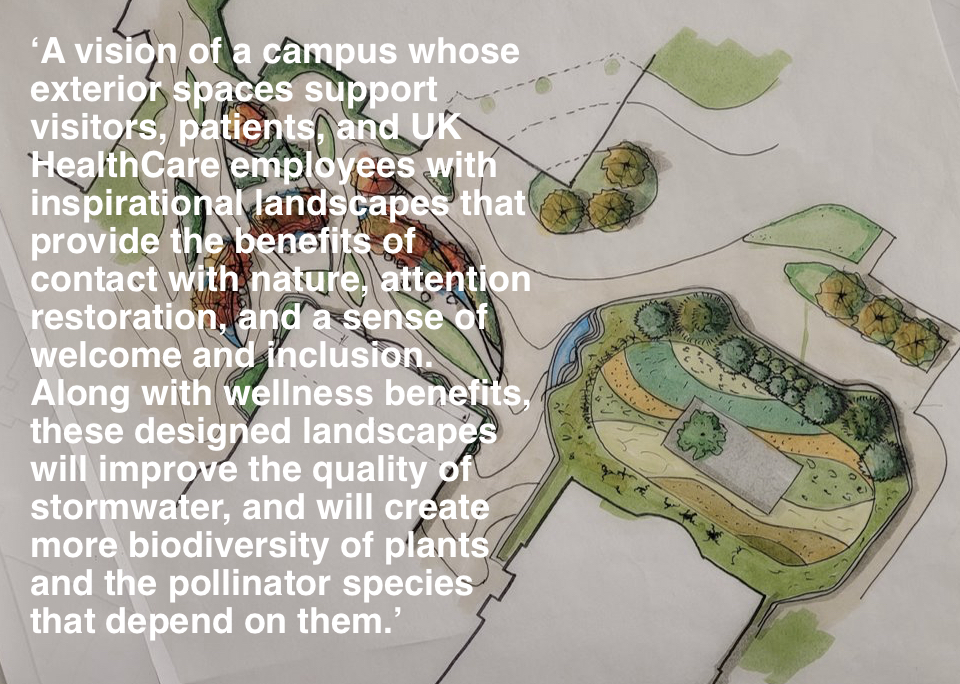 The University of Kentucky strives to provide a nurturing, healthy environment for all its users from our patients and patients families, to our staff, faculty, and students. UK has already led the way among Kentucky higher academic institutions in implementing sustainable campus landscapes.
This project seeks to substantively further this effort to transform portions of our medical campus outdoor spaces into actively human health-promoting landscapes. The challenges imposed by a busy medical center with its complex patients and numerous students driven to excel can result in mental stress that also manifests physiologically. Unattended stresses significantly impair the immune system and degrade cardiovascular health, among other effects.
Therefore, Nature Rx proposed to provide an efficient means to improve the mental and physical toll of a high stress environment (the hospital setting) by replacing large stretches of lawn with conveniently accessible, colorful, biodiverse gardens. Biodiverse, "naturalistic" gardens are proven to improve multiple physical and psychological health parameters.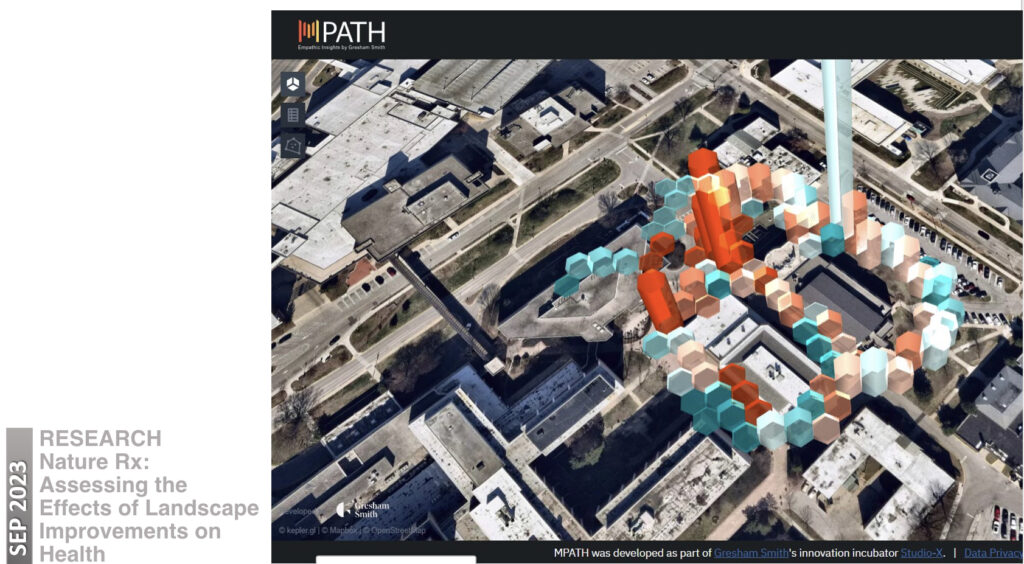 A multidisciplinary team of faculty and students have worked for the last two years on developing design ideas for three different sites around the Markey Cancer Center campus. Site 2 bounded by Ben Roach Cancer Care Facility, Combs Cancer Research Building, and Whitney-Hendrickson building was selected as the first Nature Rx schematic design and instillation. This cluster of building are located at the intersection of Rose St. and Hugelet Dr. at University of Kentucky's Medical Center north boundary.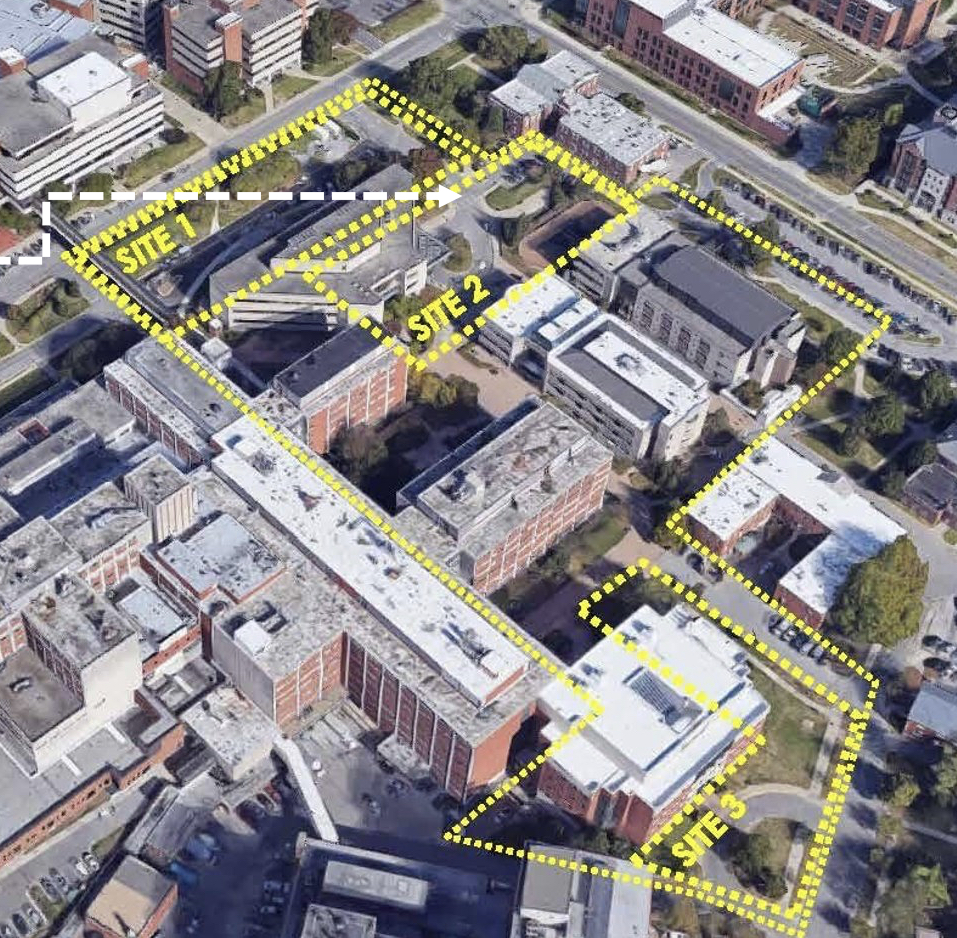 Site 2 is a 0.28 acres site located on an elevated area in front of the Whitney-Hendrickson Cancer Facility for Women. This elevated area is divided into two very distinctive areas. A 0.14 acres outer grassy area surrounded by an equal large oval-shaped area enclosed by a black fence.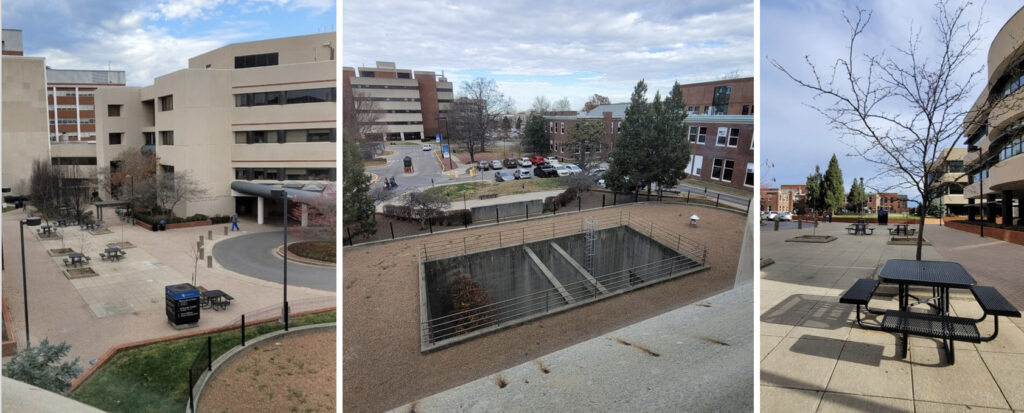 The overall guiding design is driven by the following design principles:
Use the plans as models that can be replicated into additional nearby spaces on the medical campus.
Create flowing, connected natural landscapes.
Use easily maintained geometries with simple forms and separated maintenance zones.
Incorporate places where people can immerse themselves in nature.
Create a mix of meadow-like gardens, shrub gardens, and tree canopy
Consider sun and shade for planting and people spaces.
Bring gardens into close contact with pedestrian circulation so that people in transit experience them.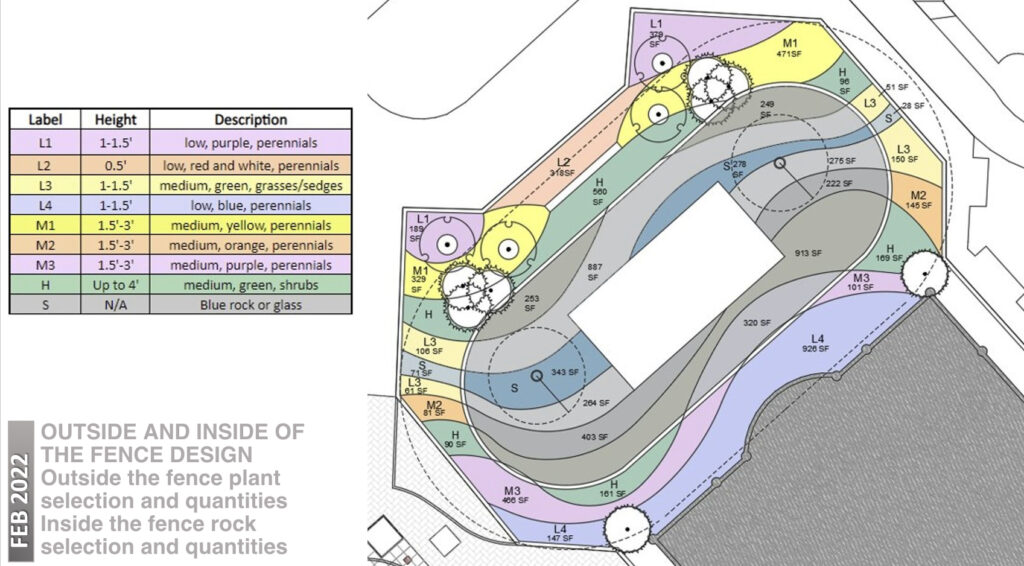 Site 2 schematic design is characterized by longitudinal waves of color running north to south. Plants vary in sizes from lower height on the outer edges to increasing plant height closer to the oval-shaped fence. These waves of color on the outer edge transition into waves of different colored pebbles on the inner oval shape with a wave of Mexican Blue pebble symbolizing water going across.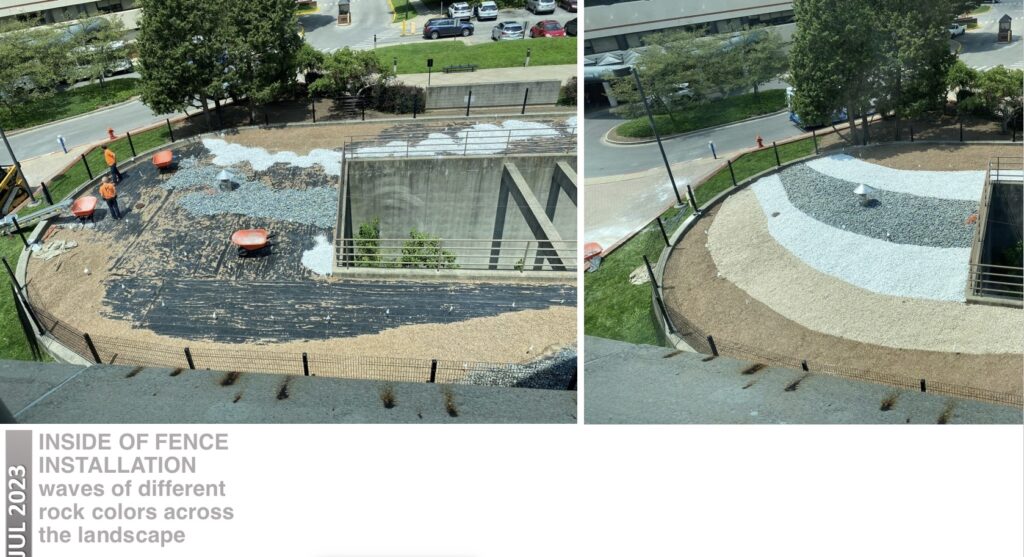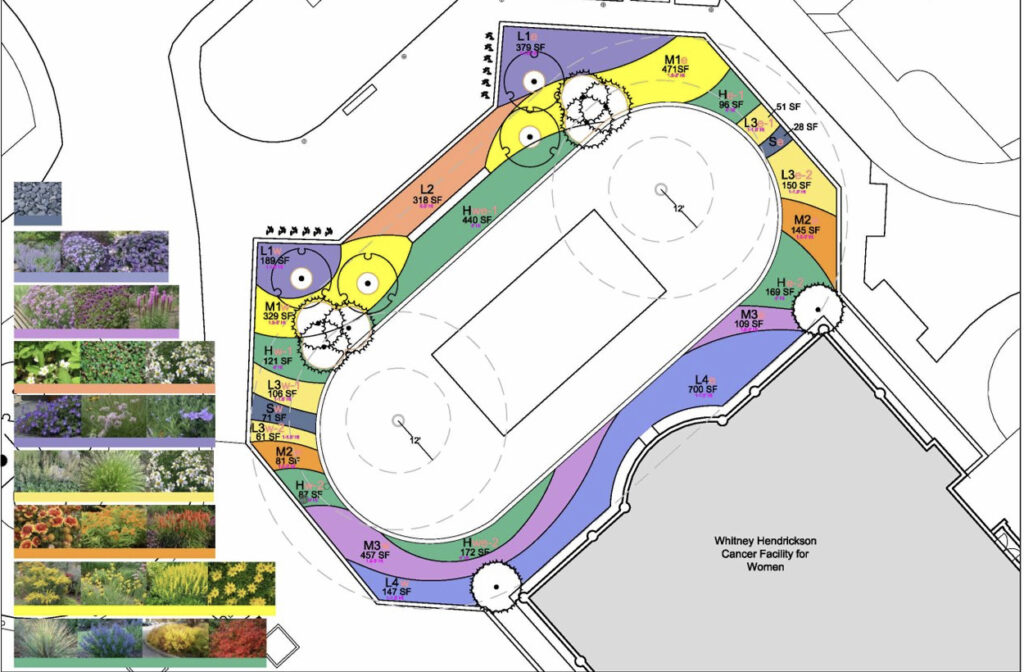 In selecting the plant choices, Nature Rx wanted to encapsulate the visions of Appalachian sunrises and sunsets through the specific plant choices. Plants included in the Site 2 design include prairie onion, wild petunia, wild strawberry, white-tinged sedge, prairie alumroot, walkers low catmint, goldenrod, yellow false indigo, butterfly milkweed, torch lily, bee balm, blazing star, and Bluebeard.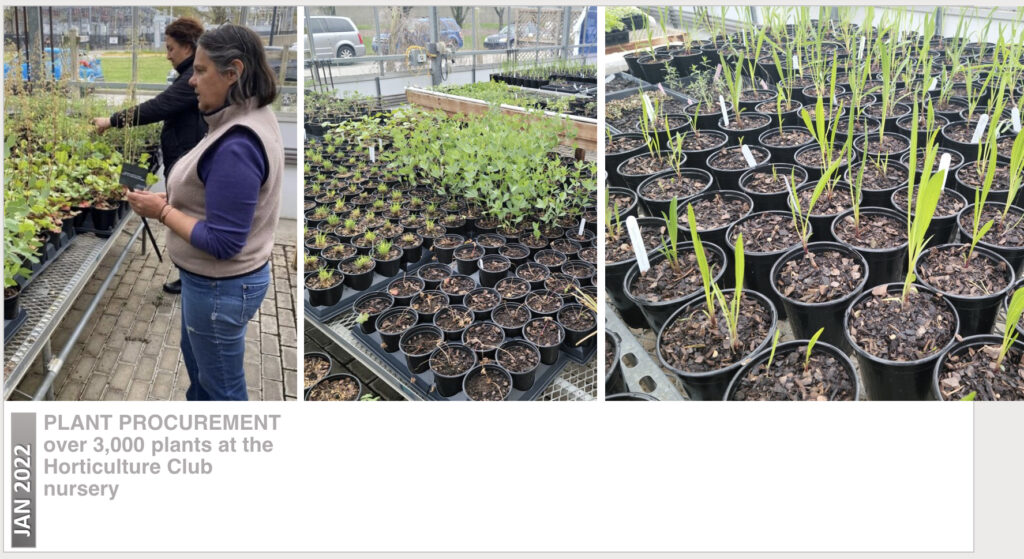 A big factor that contributed to the selection was using as many Kentucky native plants as possible. Many plants were supplied to Nature Rx from the Department of Horticulture and the Horticulture Club.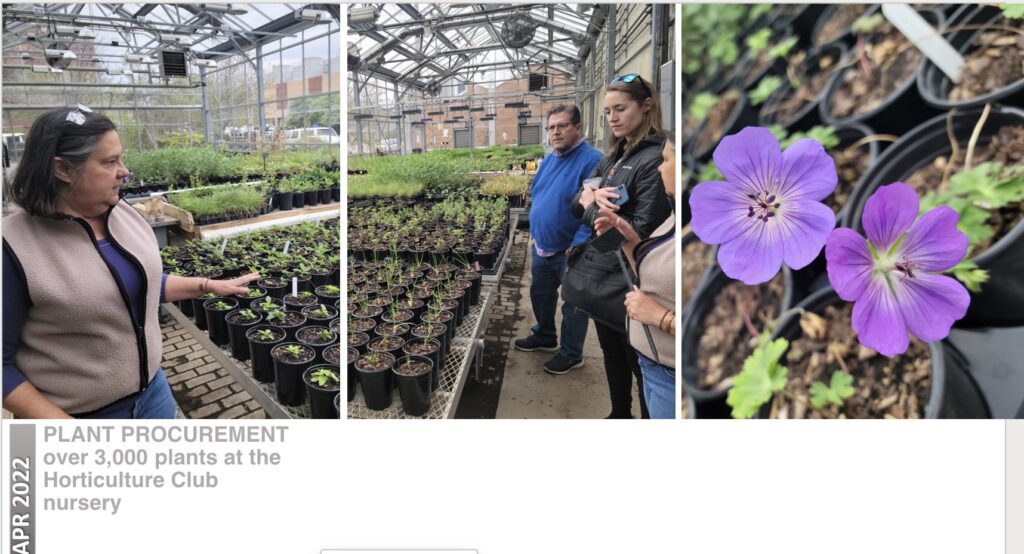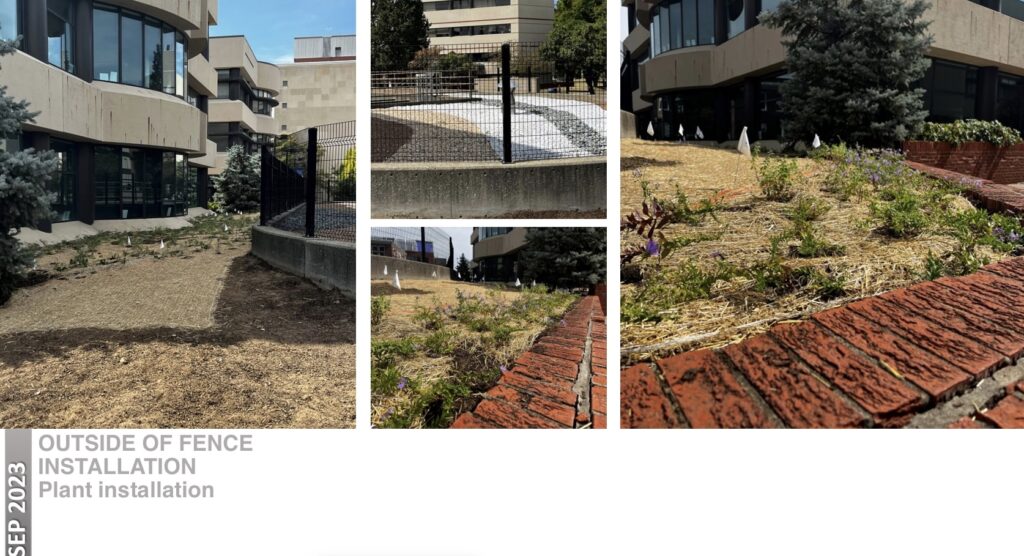 As of September 2023, the first plant installation was installed at Site 2. We are very excited to see the final developments on Site 2, along with many more Nature Rx projects to come!