Registration is now open for the 7thInternational Forum on Sustainable Manufacturing (IFSM), organized by the Institute for Sustainable Manufacturing at UK. The event is scheduled for October 27-28, 2022, and will be held on campus at Woodward Hall, Gatton College of Business & Economics.
The IFSM brings together national and international experts from academia, industry, and government agencies and provides a platform to discuss topical issues, research advances, and industry needs in sustainable manufacturing and related areas. The theme for this year's event is "Sustainable Manufacturing in the Industry 4.0 Era"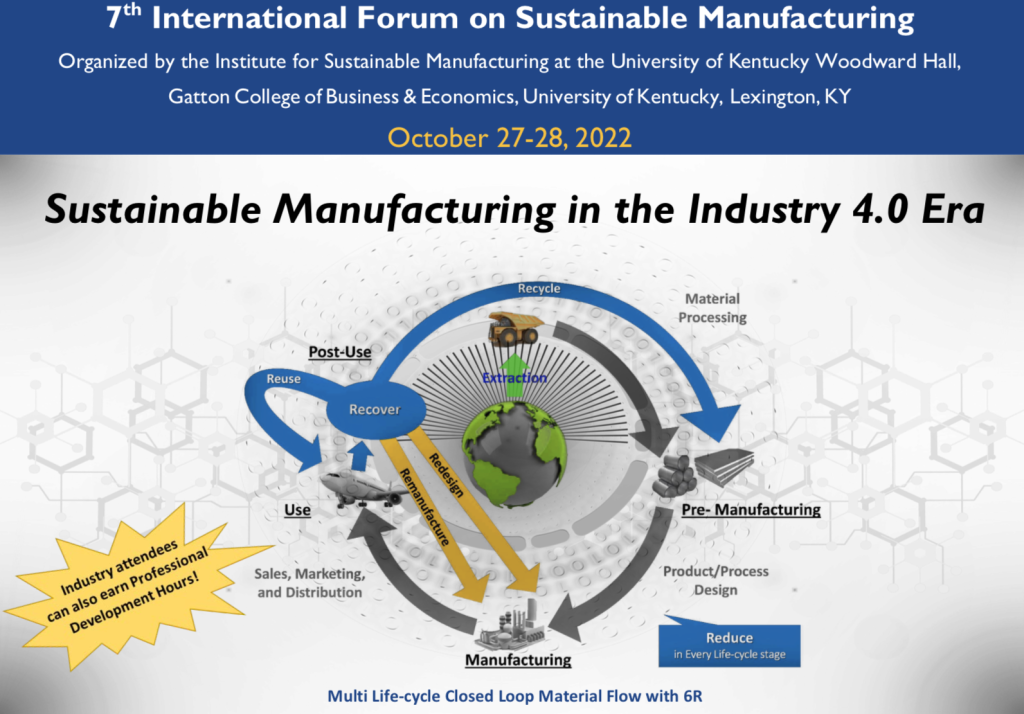 "The fourth industrial revolution, or Industry 4.0, envisions the integration of manufacturing technologies, advanced sensing, and ubiquitous computing capabilities, as well as big data and artificial intelligence to enable fully- integrated and collaborative manufacturing environments. With increasingly interconnected, digitalized machines and systems Industry 4.0 could also have revolutionary implications for environmental protection and societal well-being."
Special features of the event include:
Invited presentations by experts in Industry 4.0 and Sustainable Manufacturing
An Emerging Researcher Showcase with presentations from early-career researchers (expenses covered)
A Panel Discussion on 'Sustainable Manufacturing in the Industry 4.0 Era'
A Student Poster Showcase
Sustainable Manufacturing Student Projects (NEW!)
A limited number of complimentary registrations will be available to students, faculty, and staff on a first-come, first-serve basis. If you are interested in attending this event, complete this form at your earliest convenience. Complimentary registrations are supported by a grant from the National Science Foundation.