The AppalachiaCorps provides students with interests and roots in Eastern Kentucky opportunities to learn and serve the region.
Summer fun in Appalachia: hiking, climbing, camping, swimming—and holding somebody's removed femur in a hospital.
UK student Logan Turner got to participate in that last activity while working a summer observation internship in Pikeville Medical Center in 2021. He participated in AppalachiaCorps, a new program run by the College's Appalachian Center and Appalachian Studies Program and funded with help from UK's Women in Philanthropy.
AppalachiaCorps helped fund Turner's work with the Eastern Kentucky hospital as a run-up to his applying to medical school. His goal is to be an ophthalmologist.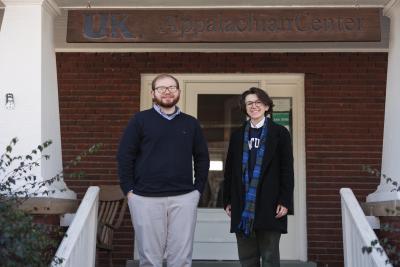 "I was doing physician shadowing, so a lot of surgeries," said Turner, a biology major from Hueysville, Kentucky, in Floyd County. "I got to see as many as 60 cataract surgeries. I also got to observe vascular surgery and orthopedic surgery. And I got to hold the tip of someone's femur. It had been fractured, and the surgeons were going in and replacing it. That was a cool procedure. Overall, it was a really neat experience."
Turner needed to shadow doctors in action as part of his application for medical school, and Pikeville provided him with access to a variety of procedures, more so than at a big city hospital.
"They were extremely flexible with the types of things that I got to do," he said. "I asked for a full range of experiences, and the administrator basically said that sounded great."
Twelve students participated in AppalachiaCorps in 2021, and the College's Appalachian Center is seeking students for summer 2022. The students, many of whom are from Eastern Kentucky, get to ferret out a range of possible experiences, said Kathryn Engle, director of the Appalachian Center and adjunct assistant professor of sociology. Engle's group partners with UK's Center for Service Learning and Civic Engagement under the direction of Todd Stoltzfus for the AppalachiaCorps initiative.
AppalachiaCorps contributes both to the broader education of UK students and to the services and organizations benefiting from the participants' energy and inquisitiveness.
"We're providing high-impact learning experiences and experiential learning," she said. "In addition, we're building capacity and strengthening those organizations out there, allowing them to extend their outreach and commitment."
For example, Danica Moon went to work in one of the biggest issues facing Appalachia—affordable housing. She helped remotely at the Lexington office of the Federation of Appalachian Housing Enterprises (FAHE), which is based in Berea, Kentucky. FAHE is a membership organization for housing initiatives and economic development nonprofits in the region. She was working directly with Jim King, the president of the organization…
To continue reading, click here.