On every university campus throughout US, when students leave campus for holiday or summer breaks, a lot of waste is produced.  While packing and getting ready to leave, waste comes from many places:  cleaning out fridges, getting rid of clothes that don't fit anymore or are out of style, realizing that there are too many cans of soup that will not get eaten, just deciding that an item isn't needed, or having more items than will fit in the car.
For the last several years, UK Recycling has worked with UK Housing to encourage students to consider donating these unwanted, but still usable items, instead of throwing them away. Throughout the years there have been different versions of the program.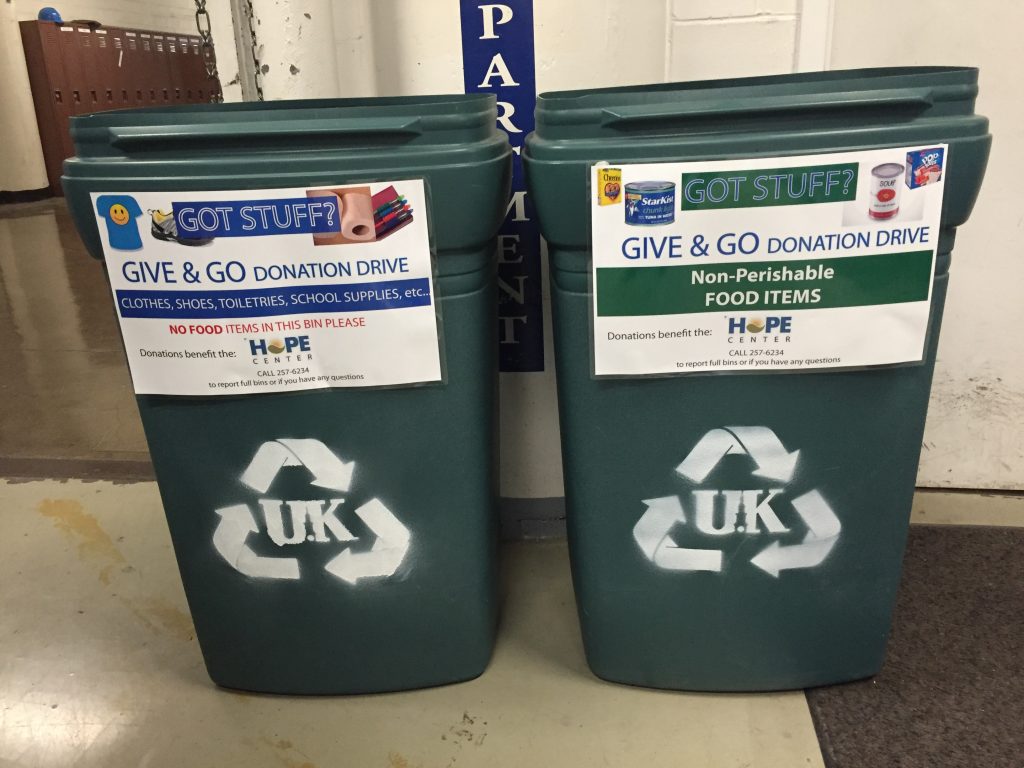 In 2014, small bins were placed in the residential hall lobbies for collection. Students were asked to separate clothing, shoes, and household items from non-perishable food. The food was donated to God's Pantry and the household items went to the Lexington Women's Hope center. However, the bins proved to be too small and overflowed quickly, creating a need for more frequent service that our staff had a hard time keeping up with.
In 2017, stations were created where students would have to sort their donations into bags: brown paper bags for non-perishable food and blue plastic bags for other items. UK Recycling staff would go to the residence halls to collect the full bags. This method wasn't too popular because it added extra steps for students and created additional work for UK Recycling staff to bag any items left in the lobby.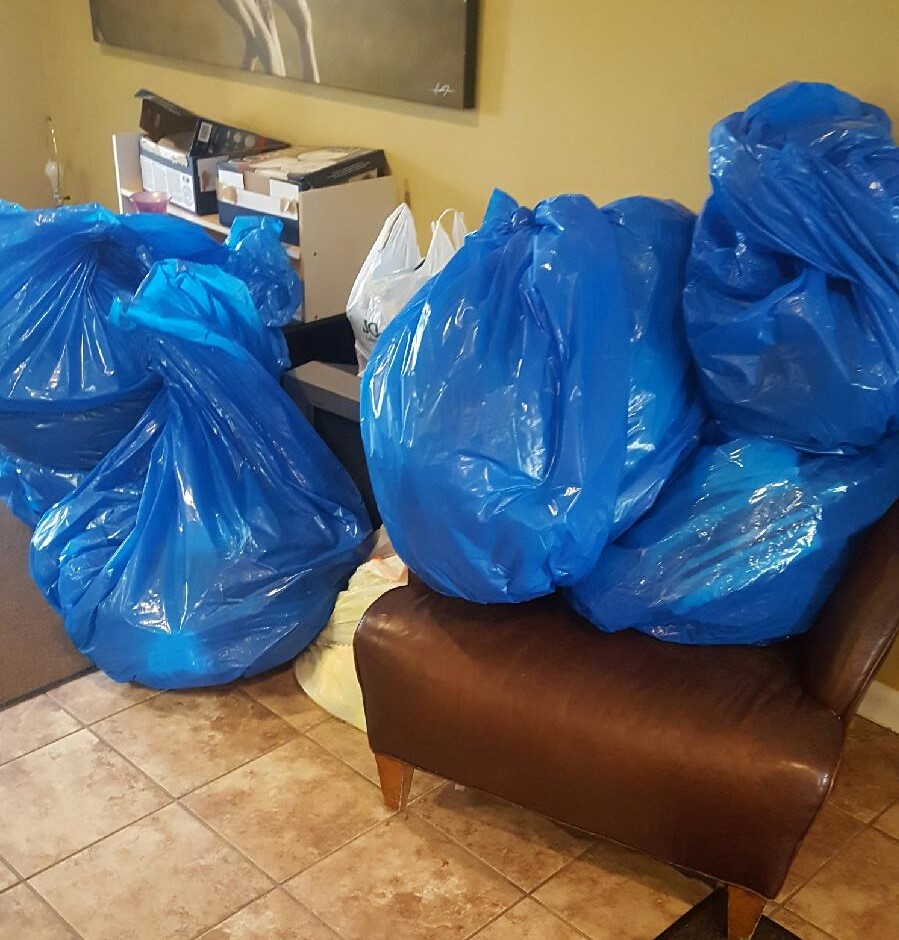 Lobbies quickly filled with donations and UK Recycling staff couldn't keep up with the demand for service. Stations needed to be frequently replenished with bags. We were glad that participation was so great – but we didn't have enough staff to keep up while still covering our other responsibilities. Plus, we didn't want to create a safety issue with blocking entrances and exits.
Wanting to keep offering and improving the program, UK Recycling had to go back to the drawing board. That's when we started partnering with Goodwill. They have staff, trucks, large wheeled carts, receiving facilities that can handle large amounts of donations at once, and the willingness to partner with us on this effort. Goodwill was also willing to sort out the non-perishable food donations from the household material. Separated food is collected by UK Recycling staff from Goodwill and brought back to campus to the Big Blue Pantry.
Other local charities and organizations were considered, although they couldn't handle the large amount of donations we received at the end of each semester. We still make a point to send some donations to the Women's Hope Center in Lexington to continue supporting their important mission.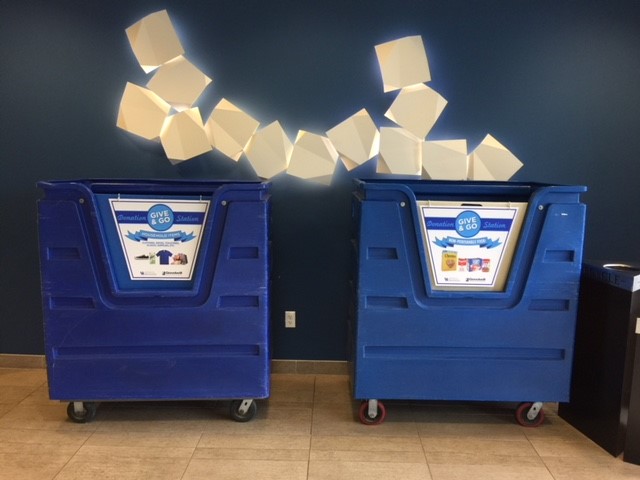 The end of this semester (Fall 2021), on November 22, Goodwill will place donation containers in every residence hall lobby and will come collect donations twice a week. During finals week, they will come every day. If residence hall lobbies get overwhelmed with donations, UK Recycling will collect material and take them to a Goodwill receiving center.
We hope that students continue taking advantage of this opportunity to donate usable items instead of sending them to the landfill. Over the years, the amount of items donated has increased. Here is how much we've collected at the end of each semester since we started measuring how much was collected:
| | | | | |
| --- | --- | --- | --- | --- |
| Fall Semester | lbs. | | Spring Semester | lbs. |
| Fall 2016 | 250 | | Spring 2017 | 15,732 |
| Fall 2017 | 994 | | Spring 2018 | 18,449 |
| Fall 2018 | 2,016 | | Spring 2019 | 21,024 |
| Fall 2019 | 2,376 | | Spring 2020 | 0* |
| Fall 2020 | 663 | | Spring 2021 | 14,600 |
| Fall 2021 | YOU Decide! | | | |
*No donations were collected in spring 2020 due to the COIVD-19 Pandemic.
Thanks to all the students that have donated in past years.  We can't wait to see how much more is donated this semester!
Published November 18th, 2021.