According to the Centers for Disease Control and Prevention, 34.6% of Kentuckians have a disability, and many of these individuals are unable to afford the durable medical equipment that they need. Even for patients on Medicare or Medicaid, the system can sometimes take months to get people the assistance they need. Recognizing an opportunity to refurbish and distribute used wheelchairs, walkers, and other equipment, a team from the College of Health Sciences, College of Social Work, and UK Center of Excellence in Rural Health rose to meet the challenge.
Patrick Kitzman, Melissa Slone, and Keisha Hudson proposed an expansion of a current program meant to serve as a service-learning opportunity for UK students while also increasing mobility, decreasing isolation, and improving community participation of individuals with disabilities in Kentucky. This project, Coordinating and Assisting the Reuse of Assistive Technology in Rural Appalachian Communities: A Service Learning Program (CARAT), received funding from the Sustainability Challenge Grant, a collaborative effort between the President's Sustainability Advisory Committee, the Tracy Farmer Institute for Sustainability and the Environment, and the Office of Sustainability, and the Student Sustainability Council.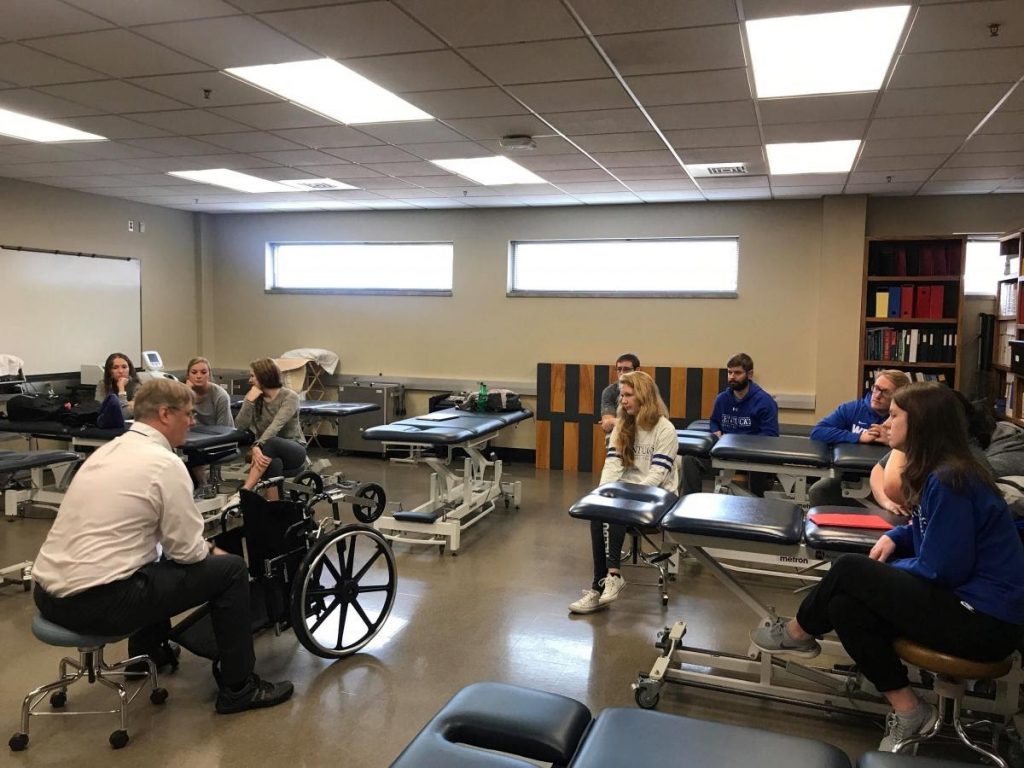 When medical equipment is no longer needed, it is often landfilled or tucked away in a closet somewhere – preventing it from being used by those who need it. Project CARAT refurbishes collected medical equipment for reuse by involving physical therapy and social work students in service-learning sessions. Students are trained to collect and log medical equipment, and are provided with initial education about types of durable medical equipment and assistive technology, learning how to clean and repair them.
"The goal is to get medical equipment and assistive devices out to members of the community in need. We actually get to do hands-on activities, like refurbishing and cleaning the equipment, and getting it out to people."

Keisha Hudson of the Center of Excellence in Rural Health
Kala Gilliam, community health worker with Kentucky Homeplace, is excited about the impacts the project has had so far.
Receiving help from the CARAT program has positively affected the lives of my clients by giving them the mobility to live a more independent life at home. The majority of them are on a fixed income and they cannot afford to go out and purchase a very expensive piece of medical equipment on their own.

Kala Gilliam, community health worker with Kentucky Homeplace
As project CARAT continues to recruit and train social work and physical therapy students as well as community members, they will be able to expand their services to include a larger geographic region in eastern Kentucky.
Project CARAT lists their available refurbished medical equipment on Kentucky's Assistive Technology Locator, accessible at katsnet.at4all.com.